I Hate Skinny Jeans
!!! It's true. Why would a man want to wear clothes that are tighter than his woman's clothing, unless he was gay?
Skinny Jeans
are actually worst than sagging jeans past the behind. Okay, not as gross, but still ugly!
I bet you remember the hammer pants. When the short lived fad exploded everyone had to have those pants. I remember being in high school and the kids would go crazy over Hammer pants. The idea of skinny jeans would turn any kid into a laughing stock. I didn't get it then, and I still wonder how they got so popular. Maybe that generation got bored and didn't have anything better to do, so they decided to wear Hammer pants that looked like parachute pants. And this generation got bored and wanted something even more deplorable so they put skinny jeans in style. Yuck!
Older generations have done some pretty bizarre things when it came to fashion. But skinny jeans!? Come on people.. OMG! I remember the box haircuts everyone got. I must admit, I did sport that even though I never really had the right shaped head for that particular haircut. But it was the style back then and I sort of liked it. Still could see that making a comeback, as long as kids don't start wearing that high eraser head boxes. They just looked trifling. Afros look much better. Today, it seems, kids have adopted this stupid new fashion trend that I didn't think had a chance of taking off. But it has spread like wildfire. It's called skinny jeans.
Back in my day, if a kid wore his jeans too tight, he got beat up or laughed at. Now all of a sudden, the feminine style of wearing skinny jeans is actually a new sensation. Does any one besides me think that skinny jeans are, well… a little gay? Of the new fashions of the newer generation, this fad is the scariest. We love skinny jeans on women, but when little boys feel that it's cool or safe to wear such a feminine style, maybe that signals that our politically correct policies are having too much influence on today's culture. I mean, think about it, if everyone started acting gay, what would we do about the population crisis that would occur from no one being born. That would be a stupid reason for civilization to cease on planet earth. Well, wouldn't it? The solution to this enigma is quite simple. Skinny Jeans must be banned for all the rest of eternity.

This kid has his pants sagged down too low. Most people consider this insulting and disrespectful. This rebellious attention has caught the attention of the courts and is now illegal in some states. You can be fined for sagging your pants too low. Is that going too far?

Pop star Justin Beiber is wearing the skinny jeans far way too low. I don't get it. Why is this silly trend so popular among today's youth. I understand being rebellious, but are the kids going too far to stand out?
I hate to tell you, but this is not a woman's body. It's a man's body. Does this look freakishly gay? Meaning, are people sending the wrong messages when they wear these skinny jeans? Are they safe or do they attract the wrong attention?

Okay, when Goth came out we were probably all scared. Heavy Metal music has evolved into a few different cultures, Goth being one of the most "In Your Face". Though I do have to admit, some Goth actually looks okay. It's more of an artistic form of expression. At least it's not skinny jeans! Well… not totally. That's one fashion style that will get you all the attention that you will be able to handle, and then some extra attention to go with that. I bet the same is true of skinny jeans too.
Weave just seemed to come outta no where and just took over woman hairstyles. I hate weaves. These days your girlfriend doesn't have to do her hair and she can feel just as good about herself. All she has to do is throw on a terrible looking wig or weave and viola! She feels like she is Beyonce or Toni Braxton even though she looks more like Raggedy Anne. Weave probably makes the list in my opinion as one of the worst trends though nothing takes the number one spot of tight jeans. Okay, maybe weaves do. That's almost as sick as sagging jeans. But why on earth would a man want to flash his booty for another man to see? It's beyond any reasoning I can think of.


Skinny jeans are not for men. His skinny legs has no business wearing these skinny jeans. Does this look ridiculous?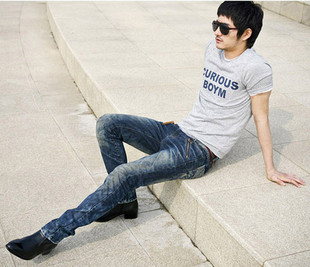 Skinny jeans are not for men. These skinny jeans are not skin tight, so they can pass better. The only bad thing about this picture is that he has his pants sagged. Sagging your pants does not go well with wearing skinny jeans.


Skinny jeans are not for men. These are not skinny jeans. They are actually spandex jeans, but look ridiculous just the same.

Skinny jeans are not for men. Not sure I would call these skinny jeans because they are not skin tight. These, I would actually say are passable. And he doesn't have his skinny jeans sagged below his behind.

Skinny jeans are not for men

Skinny jeans are not for men. Here is a prime example of a man wearing skinny jeans that are too tight. Cut it out! This style of skinny jeans is not for men. But these skinny jeans would look nice on a woman with the same size legs.
Am I out of touch? Do skinny jeans really look good on guys? Is this what women of the new millennium find hot? somebody help me out here?
See About Emo Hairstyles Too: Emo Hairstyles