Maggie Q's Killer Outfits In Nikita: In the TV series, the Agency named Division was a Special Unit of the Government. No one seemed to know about their existence. Nikita was recruited to be a spy and assassin for the Division, which claimed to be a tool to do justice for the Government. And Maggie Q dresses with flare and elegance!
Maggie Q's Killer Outfits In Nikita
After finding out that Division was corrupted by people like Percy and Amanda, Nikita and her friends were determined on taking over Division and turn the tied around. Their goal was to make good use of Division's access to knowledge and their capacity of fire arms and trained members. However being sabotage by Amanda by blaming Nikita for assassination of the President, Nikita and her friends had to destroy Division and flee to be able to clear Nikita's name.
Maggie Q as Nikita with a Gun, wearing a Black Leather biker's Jacket and Pants… That is what we called a Killer Outfit!!..
Maggie Q's Killer Outfits In NikitaThe character Nikita is played by Maggie Q. In my opinion, they could not have selected a better actress to be Nikita, than Maggie Q.
Here are some of the stunning Outfits, which Maggie Q was wearing as Nikita. I just love how they combine her outfits with leather.
The use of leather give Nikita the sexy and the tough girl image!… They created the perfect Killer Outfits for Maggie Q in Nikita!
Maggie Q's Killer Outfits In Nikita Maggie Q as Nikita pointing a Gun straight ahead, wearing a Black Leather bomber Jacket with a Shirt underneath, Pants and has her Hair in a ponytail…
Maggie Q's Killer Outfits In Nikita Maggie Q as Nikita pointing a Gun, wearing a Black Jumpsuit with spaghetti straps and Black Leather Belt…
Maggie Q's Killer Outfits In Nikita Maggie Q as Nikita pointing a Gun, wearing a short Black Leather Vest, a Lace see through Body and Spandex Pants…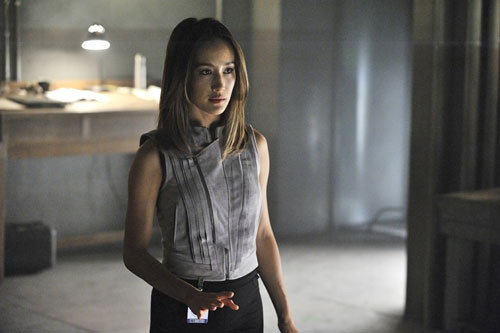 Maggie Q's Killer Outfits In Nikita Maggie Q as Nikita, wearing a short Silver Leather pleated Vest and Black Pants…
Maggie Q's Killer Outfits In Nikita Maggie Q as Nikita, wearing a Black Leather bomber Jacket, Pants and Gloves… She had her hair in a knot…